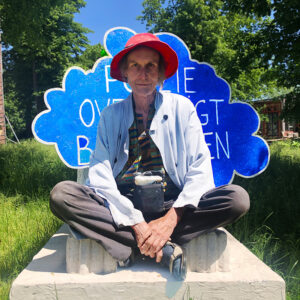 How to produce and maintain free space is a serious question. As a visual artist, word artist, performer and (co-)organizer of cultural events,
Aja Waalwijk has been active since 1976/77 in various cultural free zones in Amsterdam. He co-founded several galleries or autonomous zones for the arts and made an initial inventory of Free Cultural Spaces (FCS) as part of the 'Amsterdam Takes It' manifestation in 1984.
He was co-organizer from 1978 on of Aktion Freiraum which resulted in participation of the Amsterdam Balloon Company (ABC) at Documenta 8, Kassel (1985) and started sculpture routes during events of the ABC in the Netherlands and abroad. In 1992 and 1993 he initiated two thematic festivals at Ruigoord involving representatives of indigenous peoples. Around 2000, Aja Waalwijk participated in the Trans-Industrial art group TI-Prod, founded the Nomadic Museum and, as co-organizer of the 'Urban Tribes Meeting', initiated the 'Urban Tribes Manifesto (2008) between Ruigoord (NL) and Christiania (DK ). He participated in the establishment of 'The Cultural Defense Line of Amsterdam' (2010), was the initiator and co-organizer of 9 symposiums FCS in the Netherlands, Denmark, Portugal and Lithuania from 2011. He also published articles on the subject and installed totem poles and direction indicators between FCS. In 2013 he published the booklet 'The Emerging Network of Autonomous Zones'. It goes without saying that for him free cultural spaces play an important role not only in the artistic, but also in the social side of the concept of freedom. Networks for future development of artistic and cultural exchanges between FCS are seen by him as fundamental for collaboration on a transnational level. For a world where freedom of expression in public space is becoming increasingly difficult, the Declaration Concerning The Universal Value of FCS will hopefully lead to governments developing a different view of free spaces, whether they are nomadic, appear in festival form or as a product of unexpected uses of space.